Best New Hotels in Gold Coast
Welcome to the gilded shores of the Gold Coast, Australia! If you're in search of a remarkable escape, look no further than the recently unveiled accommodations sprinkled along this sun-kissed coastline. From opulent resorts to boutique hideaways, the Gold Coast has seen a surge in new establishments that redefine luxury and hospitality.
As we explore these fresh entrants to the hospitality scene, prepare yourself for an array of delightful havens that will tempt even the most discerning traveler. Immerse yourself in lavishness as you step foot into these meticulously designed retreats, each boasting its own distinctive charm and allure. Whether you seek panoramic ocean views or lush hinterland landscapes, there's a newly opened oasis here to cater to your every desire.
Embark on an unforgettable sojourn where modern elegance meets warm Australian hospitality. These newly minted hotels are set to captivate with their exquisite architecture, seamless service, and indulgent amenities. So pack your bags and join us as we unveil some of Gold Coast's most enchanting new sanctuaries – offering a sanctuary for those craving ultimate luxury amidst this picturesque coastal haven.
Top Newly Opened Hotels in Gold Coast
JW Marriott Gold Coast Resort & Spa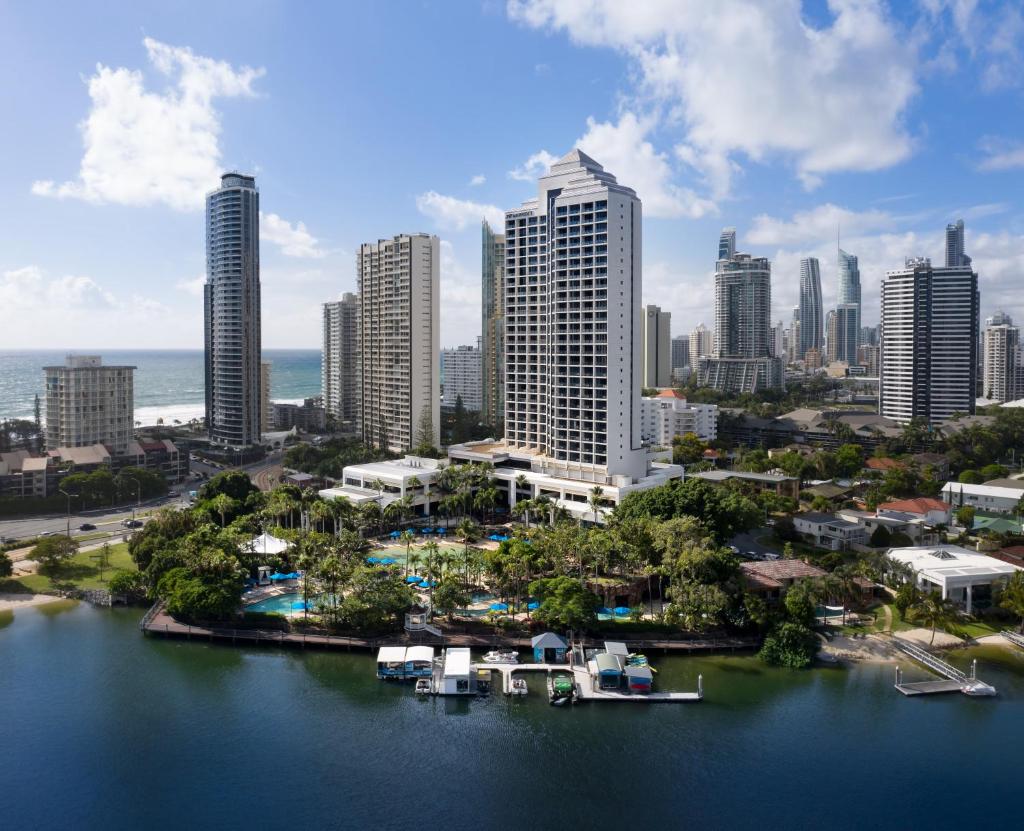 Featuring a private saltwater lagoon, sandy beaches, and an artificial reef with tropical fish, the 28-storey JW Marriott Gold Coast Resort & Spa is located in the heart of Surfers Paradise. With panoramic hinterland and river views, guests can enjoy a range of amenities including five on-site dining options and a fitness center. Each room includes free WiFi, a flat-screen TV, luxurious toiletries, bathrobes, and a hairdryer. Chapter and Verse Lounge Bar offers award-winning high tea as well as cocktails overlooking the resort's lagoon pool. This stunning property sits on 2.5 acres of ponds and waterfalls and even boasts its own private marina on the Nerang River. The hotel is conveniently situated just 300 meters from the Light Rail station, making it easy to explore the area. Additionally, popular theme parks such as Dreamworld, Seaworld, and MovieWorld are all within a short 30-minute drive from the hotel. The air-conditioned rooms feature private balconies offering breathtaking views of either the Gold Coast Hinterland or Surfers Paradise skyline or Pacific Ocean. For unique dining experiences at JW Marriott Gold Coast Resort & Spa, guests can indulge in Teppanyaki at Misono Japanese or savor fresh local seafood and seasonal produce at Citrique Restaurant.
– Private saltwater lagoon
– On-site dining options
– Fitness center
– Stunning views from private balconies
– Convenient location near theme parks
Check Availability & Prices
Mermaid Waters Hotel by Nightcap Plus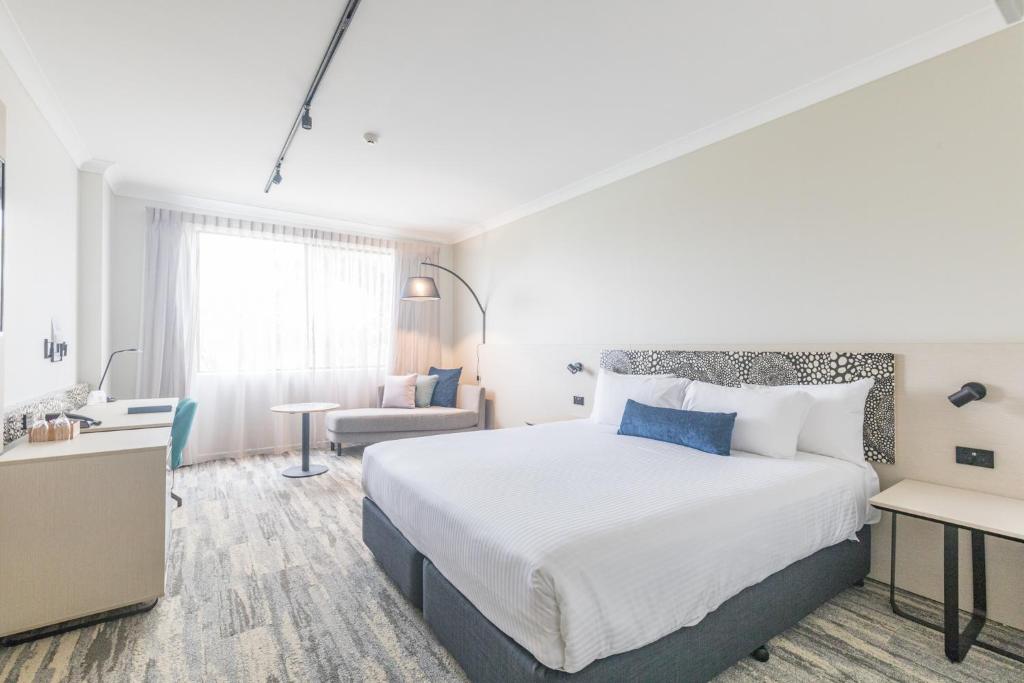 Introducing Mermaid Waters Hotel by Nightcap Plus, a conveniently located luxury hotel just 1 km from the beachfront and in close proximity to Jupiters Casino and the Gold Coast Convention and Exhibition Centre. This newly opened hotel offers elegant rooms that have been refurbished to a high standard, many of which overlook either the sparkling pool or the lush tropical garden. Guests can enjoy free WiFi throughout their stay, as well as access to a communal coin-operated guest laundry. The hotel also boasts multi-functional rooms that can accommodate over 200 people for business or social occasions. With free secure car parking available, guests can easily explore the surrounding area before returning to indulge in delicious international cuisine at the on-site restaurant or relax with a cocktail in impressive surroundings. Breakfast is also available every day at the restaurant.
– Outdoor pool
– Convenient location near beachfront, casino, and convention center
– Elegant refurbished rooms
– Communal coin-operated guest laundry
– Multi-functional rooms for business and social events
Check Availability & Prices
Reflection on the Sea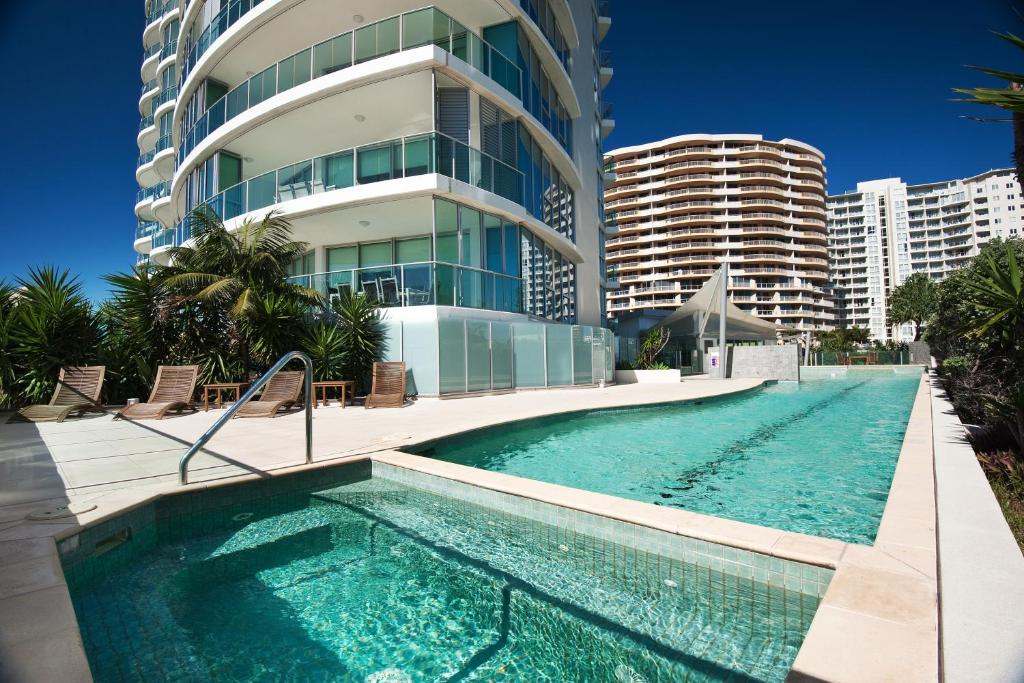 Located in Coolangatta, Reflection on the Sea is a stunning beachfront resort offering contemporary apartments with mesmerizing ocean views. The hotel enjoys a prime location amidst a plethora of dining options and shops. Each luxurious apartment is fully self-contained, equipped with modern amenities including full kitchen and laundry facilities. Guests can take advantage of the 25-meter heated lap pool, fitness center, sauna, steam room, and spa pool. Complimentary WiFi and parking are provided for added convenience. The resort also features a barbecue area, movie theater, and guest lounge with billiard tables. Greenmount Beach is just steps away from the property, along with various restaurants, cafes, and shopping outlets nearby. With its proximity to Gold Coast Airport (10 minutes' drive) and Brisbane city center (1-hour drive), Reflection on the Sea offers a perfect blend of comfort and accessibility.
– Breathtaking ocean views
– Fully self-contained luxurious apartments
– Access to numerous recreational facilities including lap pool and fitness center
– Proximity to Greenmount Beach
– Convenient location near dining options and shopping outlets
Check Availability & Prices
Other places to stay in Gold Coast
Newly Opened Hotels in Downtown Gold Coast
Downtown Gold Coast boasts a vibrant selection of newly opened hotels, offering visitors sleek and modern accommodations in the heart of the city. These newly established properties provide guests with a prime location to explore all that Downtown Gold Coast has to offer.
Rydges Gold Coast Airport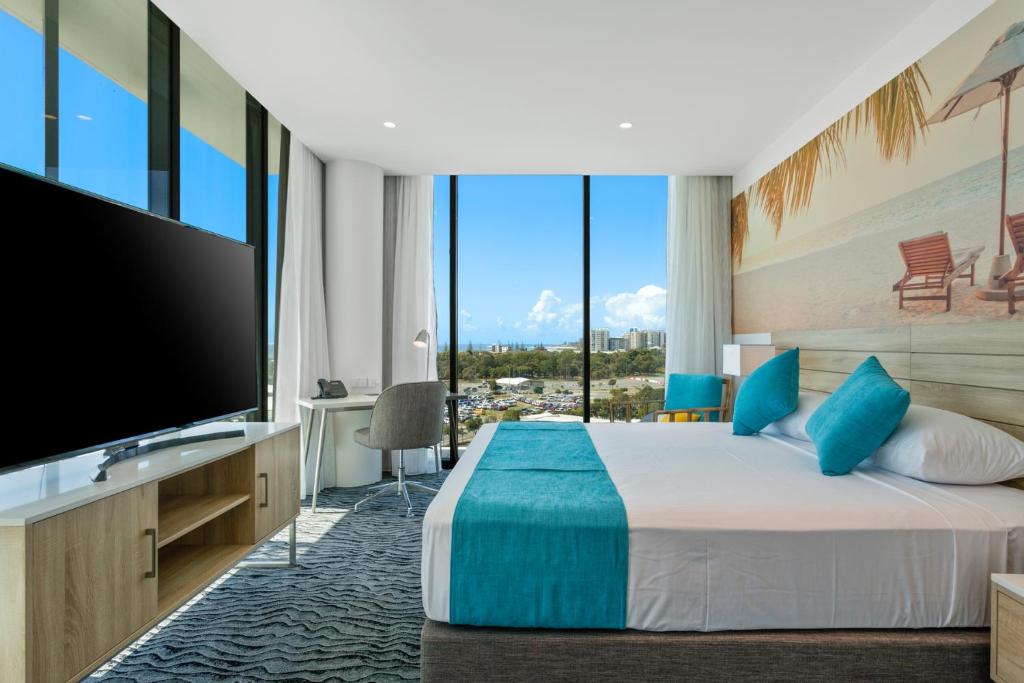 Rydges Gold Coast Airport, located in the beautiful Gold Coast and opened in September 2020, is a top choice for travelers seeking convenience and comfort. Situated just 2 km from Coolangatta Beach, this hotel offers modern accommodation with a range of amenities to ensure a memorable stay. Guests can enjoy delicious meals at the restaurant, take a refreshing dip in the outdoor swimming pool, or work up a sweat at the fitness centre. The hotel also features a bar, shared lounge, and garden where guests can relax and unwind. With its convenient location near Gold Coast Airport, guests can easily access this stylish hotel upon arrival. Other nearby attractions include Currumbin Wildlife Sanctuary (4.3 km) and Burleigh Head National Park (10 km). Start your day off right with either a continental or Full English/Irish breakfast offered by the hotel. Don't miss out on enjoying breathtaking views from the terrace during your stay at Rydges Gold Coast Airport.
– Convenient location near Coolangatta Beach
– Modern accommodation with attractive amenities
– Restaurant serving delicious meals
– Outdoor swimming pool for relaxation
– Fitness centre for staying active
Check Availability & Prices
Bujerum Apartments on Burleigh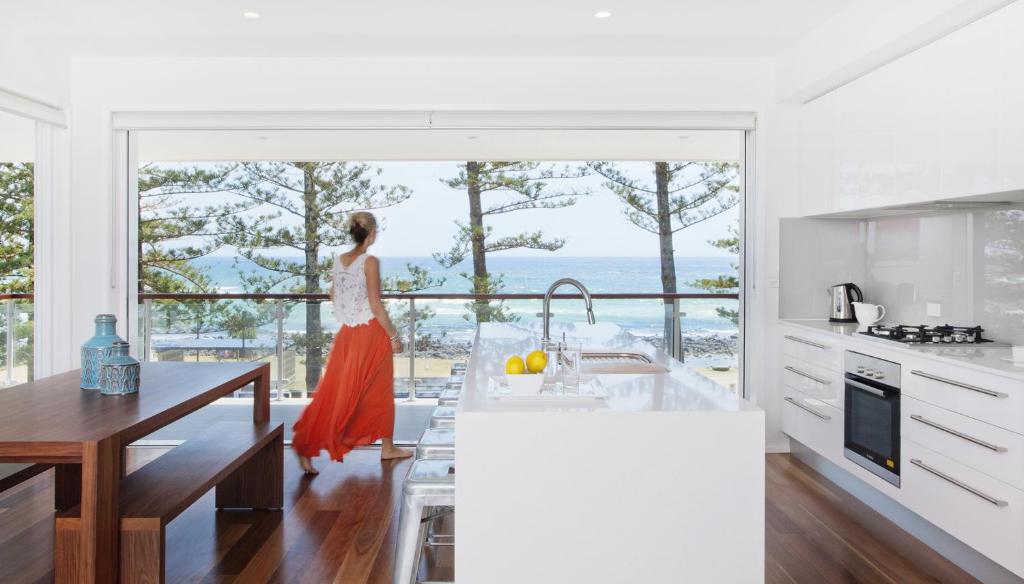 Bujerum Apartments on Burleigh is a stylish apartment hotel located opposite the surf beach in beautiful Burleigh Heads. Just a 5-minute walk from vibrant James Street, guests can indulge in a variety of cafes, restaurants, and shops. The highlight of this hotel is the breathtaking ocean views that can be enjoyed from the private balconies of each air-conditioned room. With amenities such as a flat-screen TV, iPod dock, fully equipped kitchen with a dishwasher and coffee machine, private bathroom, dining area, washing machine and tumble dryer, guests will feel right at home. For those seeking extra relaxation, some rooms even feature a private spa bath. The hotel's convenient location provides easy access to parklands with picnic tables and BBQ facilities across the road as well as a children's playground nearby. Nature enthusiasts will love being able to explore Burleigh Heads National Park which is less than 5 minutes' walk away. And for travelers flying in or out of Gold Coast Airport, it's just a short 15-minute drive away.
– Stunning ocean views from private balconies
– Fully equipped kitchens with modern appliances
– Convenient location near cafes, restaurants & shops
– Close proximity to Burleigh Heads National Park
– Easy access to Gold Coast Airport
Check Availability & Prices
Palazzo Versace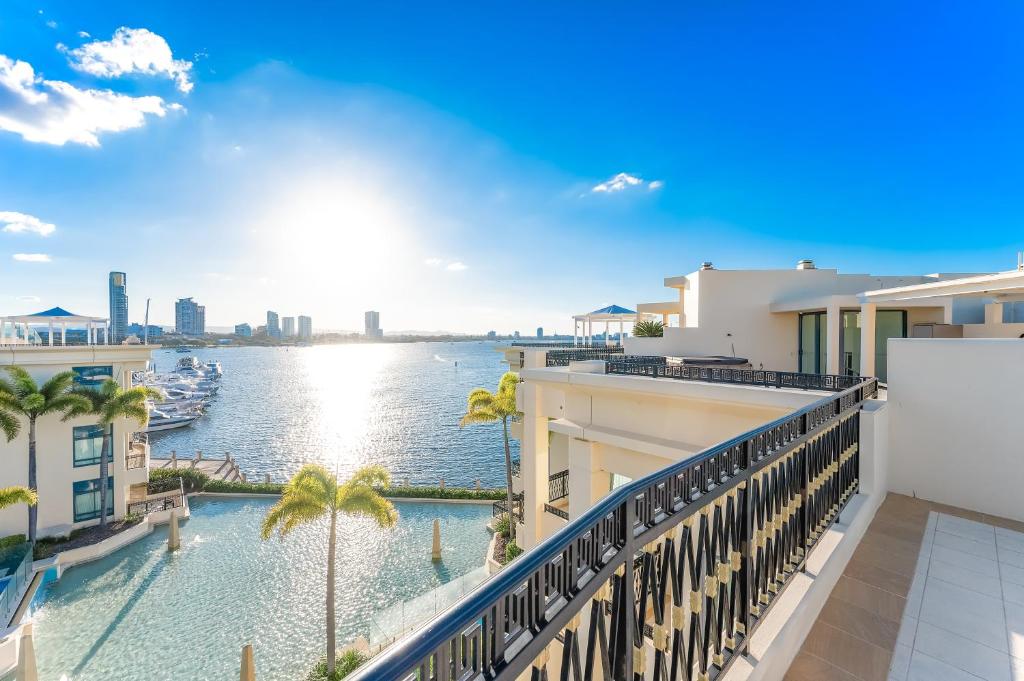 Palazzo Versace is a newly opened, luxurious 5-star hotel that offers an exquisite waterfront setting and stunning architecture. The hotel's design showcases the renowned Versace brand with bespoke furnishings and Italian craftsmanship throughout. Guests can indulge in opulent accommodation, featuring rooms and suites adorned with Versace furnishings, luxurious fabrics, and floor-to-ceiling windows that provide breathtaking views. The hotel boasts multiple award-winning restaurants, providing a culinary experience fit for the most discerning palates. For those seeking relaxation and rejuvenation, Palazzo Versace offers a fitness and wellbeing center where guests can unwind after exploring the nearby attractions of Marina Mirage and Sea World. Additionally, the hotel features a private marina for those arriving by boat or yacht. With its remarkable water salon cabana experience – a first in Australia – guests can enjoy ultimate luxury right on the waterfront. With attentive service and top-notch amenities including two stylish bars like Le Jardin serving refreshing cocktails or delightful high teas, Palazzo Versace truly sets itself apart as one of the premier luxury destinations in Australia.
– Exclusive waterfront location
– Opulent accommodation with bespoke Versace furnishings
– Award-winning restaurants offering exceptional dining experiences
– Private marina for boat or yacht owners
– Water salon cabana experience on-site
Check Availability & Prices
Cheap Newly Opened Hotels in Gold Coast
The Gold Coast is now home to a range of affordable and recently opened hotels, offering budget-conscious travelers the chance to experience this iconic destination without breaking the bank. These newly established accommodations provide comfortable stays at competitive prices for those looking to explore the vibrant coastal city.
Mantra at Sharks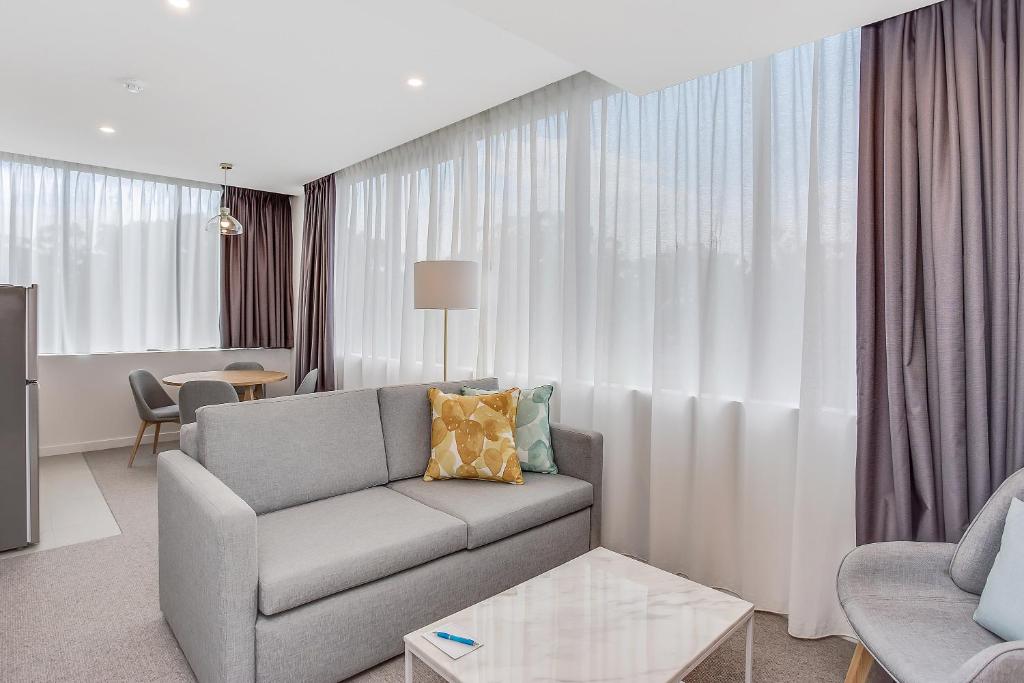 Located in the heart of Southport, Mantra at Sharks offers premium accommodation on the Gold Coast. Surrounded by a variety of dining and entertainment options, this newly opened hotel boasts a multipurpose events center, two restaurants, a café, bars, and an extensive fitness center. Guests can choose from modern studios and suites that feature contemporary furnishings and decor, along with amenities such as a 43-inch LCD TV with cable channels and free in-room WiFi. The hotel also offers 24-hour reception, complimentary parking, and access to the Aviary Rooftop Bar where guests can indulge in decadent cocktails and Italian cuisine. Complimentary access to the fitness center is available during staffed hours, while additional fitness classes are offered at an extra charge. With bus stops and light rail nearby, guests have easy access to explore popular attractions like Broadbeach for more shopping, dining, and entertainment options. Plus, major attractions including Harbour Town Shopping Centre and theme parks like Dreamworld are just a short 15-minute drive away.
– Prime location surrounded by dining and entertainment choices
– Multipurpose events center for various functions
– Access to Aviary Rooftop Bar serving delicious cocktails and Italian dishes
– Complimentary fitness center access during staffed hours
– Easy access to popular attractions like theme parks Dreamworld and Sea World
Check Availability & Prices
RACV Royal Pines Resort Gold Coast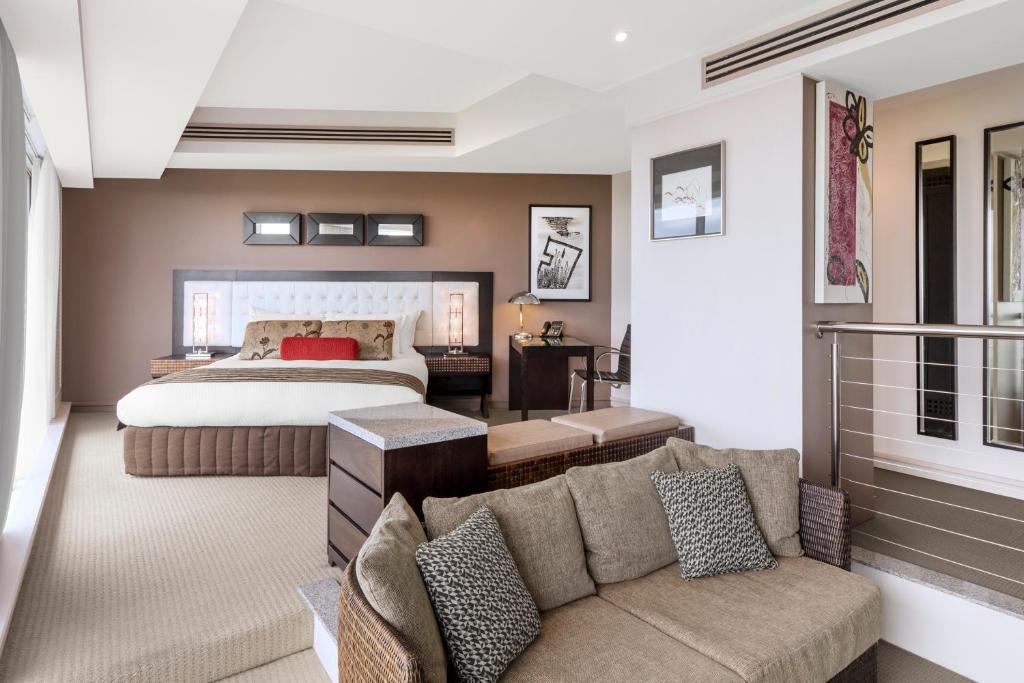 Located just 12 minutes' drive from the center of Surfers Paradise, RACV Royal Pines Resort is a luxurious resort set on a 27-hole championship golf course with a driving range. This expansive 100-hectare resort, opened in April 2016, offers guests plenty of recreational activities and dining options to choose from. Families will love the new water park area with its three waterslides, separate toddler's pool, and various water activities. The outdoor lagoon pool with timber decking and children's slide is perfect for unwinding. Other amenities include five tennis courts, a fitness center, children's playground, spa facilities, and refurbished conference facilities. The spacious rooms feature individually controlled air conditioning, cable TV, minibar, tea/coffee making facilities,and most offer balconies. With its convenient location near Metricon Stadium and attractions like Wet'n'Wild Water World and Warner Bros Movie World just a short drive away.
– Set on a championship golf course
– New water park area for children
– Outdoor lagoon pool with timber decking
– Spa facilities available
– Convenient location near popular attractions
Check Availability & Prices
Meriton Suites Southport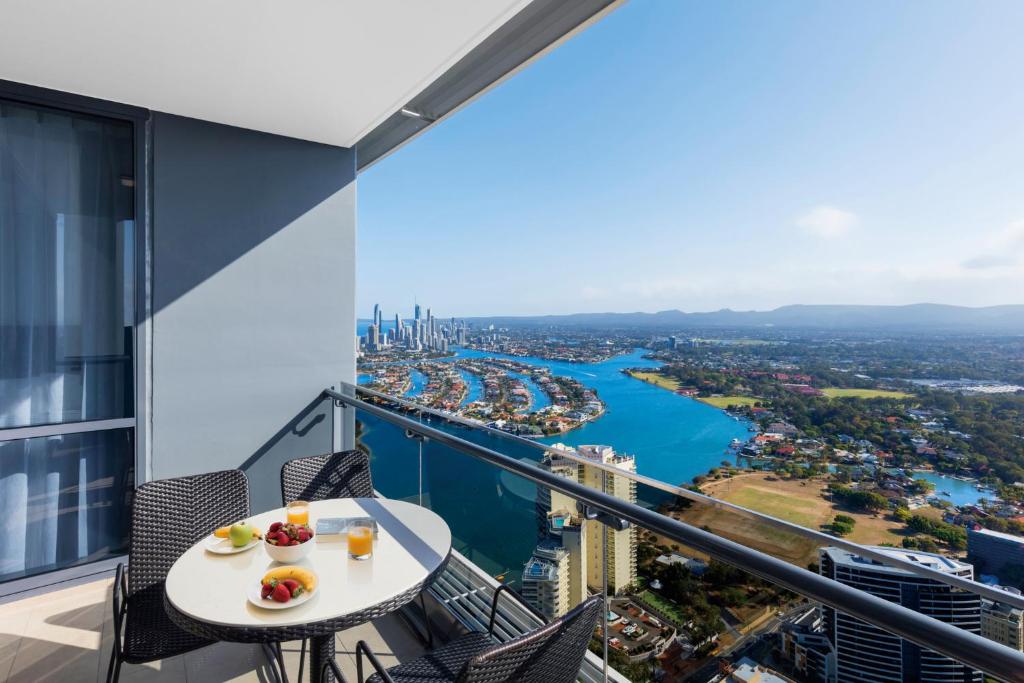 Located in Southport, Meriton Suites offers stunning panoramic views of Gold Coast's surf beaches, hinterland, and marina. The hotel is just a 5-minute walk from Australia Fair Shopping Centre and provides unlimited free WiFi to its guests. With contemporary design and luxurious furnishings, the 1, 2 or 3 bedroom suites feature full-sized European kitchens and beautiful bathrooms stocked with scented toiletries. There are also internal laundries with washing machines, tumble dryers, and ironing facilities. Guests can enjoy the fitness centre, indoor and outdoor resort-style pools, sauna, and request a DVD player for entertainment. The property is conveniently located near the Gold Coast light rail system which connects to shopping centres, universities, hospitals, restaurants as well as picturesque beaches. Additionally, there is a Woolworth's supermarket and various restaurants offering a variety of cuisines situated directly underneath the hotel.
– Picturesque panoramic views
– Unlimited free WiFi
– Convenient location near popular theme parks and attractions
– Fitness center with indoor and outdoor pools
– Nearby access to public transportation system
Check Availability & Prices
Luxury New Hotels in Gold Coast
Luxury new hotels in Gold Coast offer guests an unparalleled experience, combining elegant design with world-class service. From breathtaking ocean views to opulent interiors, these hotels set a new standard for luxury accommodation on the vibrant Australian coastline.
The Darling at The Star Gold Coast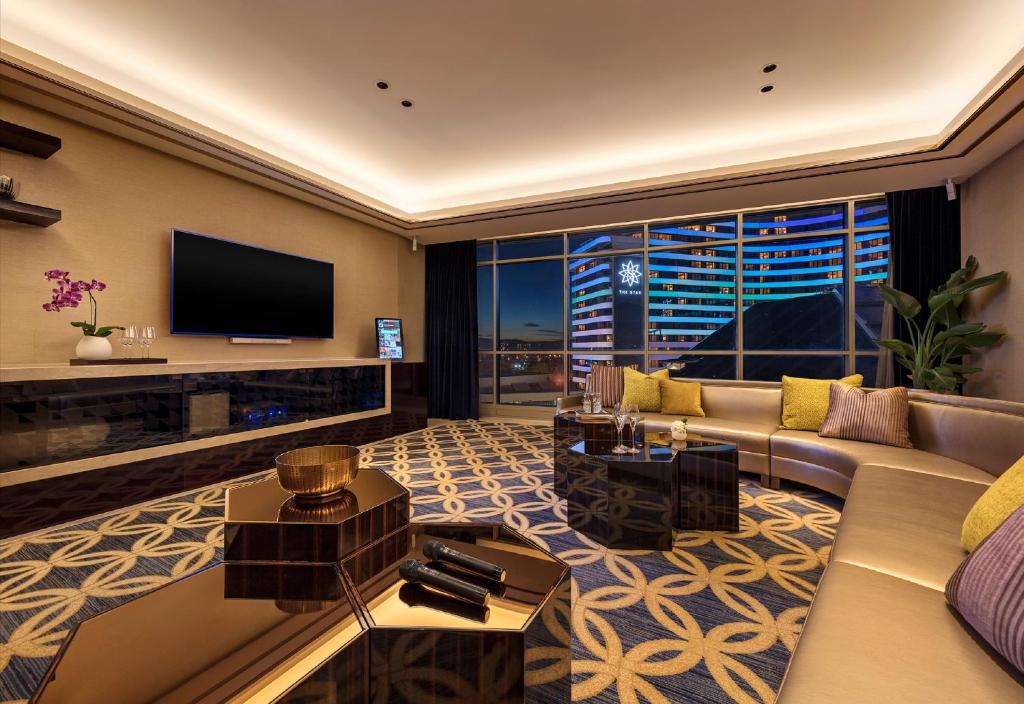 Located in the stunning Gold Coast, The Darling at The Star Gold Coast offers guests a luxurious and unforgettable stay. This 5-star hotel is situated just 750 meters from Kurrawa Beach and features a range of amenities including a restaurant, free private parking, an outdoor swimming pool, and a fitness center. With garden views from each accommodation, guests can also enjoy access to a bar and a casino. The hotel boasts additional facilities such as a sauna and terrace for ultimate relaxation. With excellent service provided by the 24-hour front desk, room service, and currency exchange available to guests, every need is taken care of. Each guest room is equipped with air conditioning, satellite TV channels on a flat-screen TV, a fridge, kettle, shower, hairdryer, desk as well as wardrobe space and private bathrooms. Located near popular attractions such as Broadbeach and Mermaid Beach along with The Star Gold Coast casino complex nearby too make it an ideal destination for exploring all that the city has to offer. Additionally being just 19 km away from Gold Coast Airport makes it convenient for travelers arriving or departing by air.
– Prime location near Kurrawa Beach
– Access to onsite restaurant & bar
– Luxurious amenities including an outdoor pool & fitness center
– Additional facilities like sauna & terrace for relaxation
– Close proximity to popular attractions like Broadbeach & Mermaid Beach
Check Availability & Prices
Ashmore Palms Holiday Village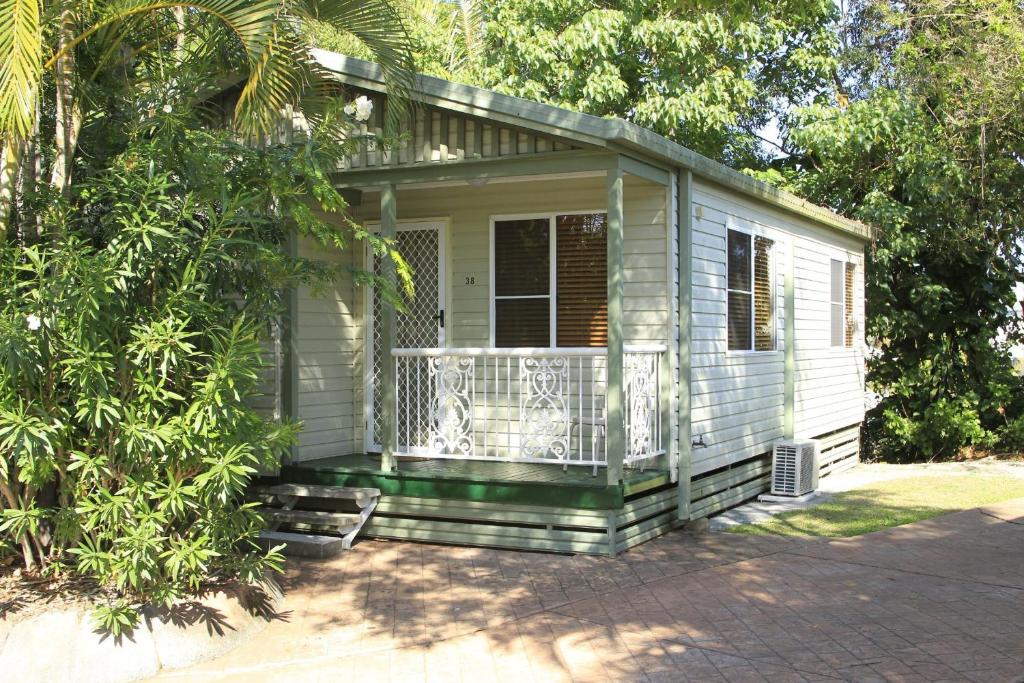 Located on 6 hectares of tropical landscaped gardens, the newly opened Ashmore Palms is a luxurious resort-style accommodation. With two swimming lagoons, two children's playgrounds, and a full-size tennis court, guests are spoilt for choice when it comes to recreational activities. The property also offers free children's activities such as arts and crafts, balloon modelling, tennis lessons, and face painting. One of the highlights of this hotel is its unique feature – Australia's largest collection of South American Macaw Parrots. Each cabin at Ashmore Palms includes a fully equipped kitchen, bathroom, heating, and air conditioning for ultimate comfort. Additional amenities include covered BBQ facilities, coin-operated laundry facilities, and an internet kiosk. Surfers Paradise is just a 10-minute drive away while Movie World can be reached within 15 minutes. Coolangatta Gold Coast Airport is approximately a 35-minute drive from the hotel. Guests will also enjoy complimentary access to tennis racquets as well as board games and DVDs for entertainment.
Pros:
– Beautiful tropical landscaped gardens
– Two swimming lagoons and two children's playgrounds
– Full-size tennis court with free access to tennis racquets
– Free children's activities including arts and crafts
– Close proximity to Surfers Paradise and Movie World
Check Availability & Prices
Sunbird Beach Resort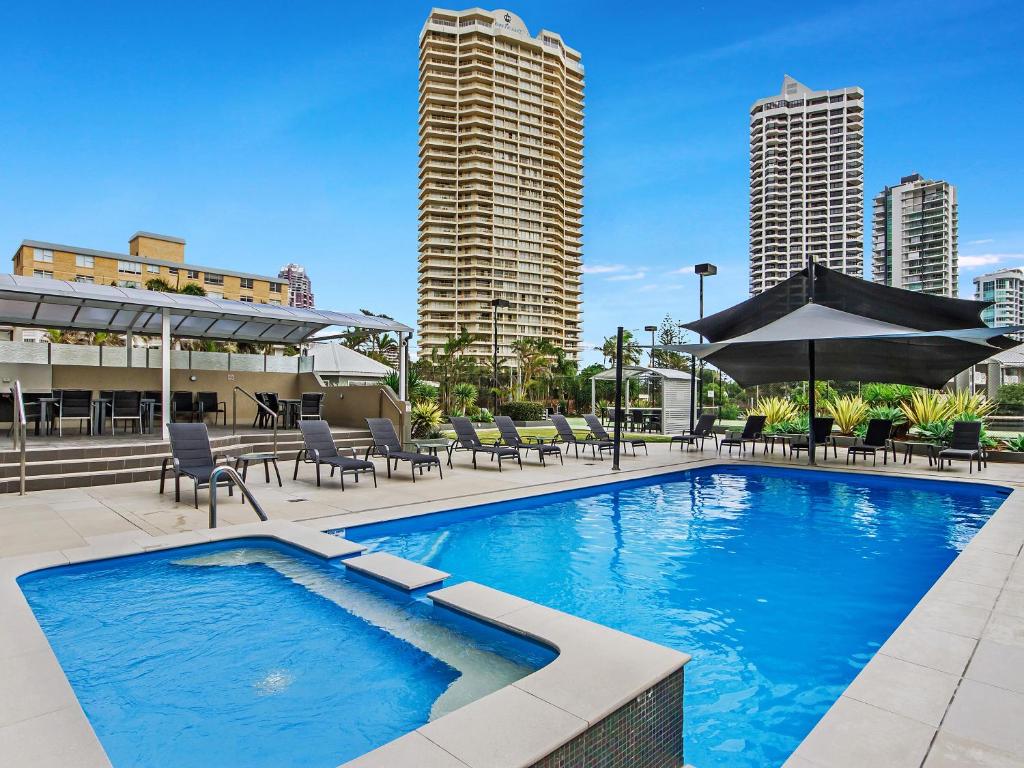 Sunbird Beach Resort is a newly opened luxury hotel located just a stone's throw away from the beach. This family-friendly property boasts spacious apartments with balconies, providing guests with breathtaking views of the ocean. The resort offers an array of amenities including indoor and outdoor swimming pools, a fitness centre, sauna, hot tub, and tennis and squash courts. Each apartment is fully self-contained with air-conditioning, featuring a kitchen equipped with modern appliances such as a dishwasher, microwave, refrigerator, and oven. Additionally, every apartment includes a washing machine for added convenience. Sunbird Beach Resort is strategically situated within walking distance to Marine Mirage shopping centre and is within easy reach of popular attractions like Warner Bros Movie World and Wet 'n' Wild Water World. Coolangatta Airport is also just 24 km away. Guests can unwind on the hotel's large terrace which features barbecue facilities and an entertainment area.
– Prime location less than 100 metres from the beach
– Spacious apartments with balconies offering stunning ocean views
– Family-friendly property with indoor and outdoor swimming pools
– Convenient amenities including fitness centre, sauna, hot tub & sports courts
– Close proximity to popular attractions like theme parks and shopping centres
Check Availability & Prices
Information about newly opened hotels in Gold Coast
| | |
| --- | --- |
| 🏢 Number of newly opened hotels in Gold Coast | 12 |
| 💰 Hotel prices starting from | $289 |
| 💵 Highest price | $978 |
| 🥇 Average Review Score | 8.8/10 |
| 🛏️ Average number of Rooms | 130 |
FAQ
What are some of the attractions near the newly opened hotel in Gold Coast?
The Gold Coast is famous for its stunning beaches, theme parks, and vibrant nightlife. Some popular attractions near the newly opened hotel include Surfers Paradise Beach, Sea World, Warner Bros. Movie World, Dreamworld, and Currumbin Wildlife Sanctuary.
What amenities can guests expect at the newly opened hotel in Gold Coast?
Guests can expect a range of luxurious amenities at the newly opened hotel in Gold Coast. These may include spacious and well-appointed rooms with breathtaking views of the ocean or city skyline, a rooftop pool and bar offering panoramic views, a fully-equipped fitness center, spa facilities for ultimate relaxation, fine dining restaurants serving local and international cuisine, concierge services to assist with any needs or requests, and complimentary high-speed Wi-Fi throughout the premises.
Is there public transportation readily available near the newly opened hotel in Gold Coast?
Yes! The newly opened hotel in Gold Coast benefits from excellent public transportation options. Guests will find bus stops conveniently located nearby which offer easy access to various parts of the city including popular shopping districts like Pacific Fair Shopping Centre or Robina Town Centre. Additionally, there is a light rail system known as G:link that connects key areas along the coastline making it convenient for visitors to explore different attractions without needing a car.
Are there any special promotions offered at the newly opened hotel in Gold Coast?
To attract guests during their launch phase, many new hotels offer special promotions and packages. It's always worth checking with the specific hotel you're interested in to see if they have any ongoing offers or discounts available for bookings. These could include discounted room rates during certain periods or bundled deals that combine accommodation with additional perks such as breakfast vouchers or spa treatments.
How far is the newly opened hotel from Gold Coast Airport?
The distance between Gold Coast Airport (also known as Coolangatta Airport) and the newly opened hotel can vary depending on its location. Generally, most hotels are within a 30-minute drive from the airport. It's recommended to check with the hotel directly or use online maps for an accurate estimate of travel time based on your specific destination.
Popular Newly Opened Hotels destinations